Brand new replacement gas shock absorbers and gas struts for later model vehicles now available in our store.
Nissan Pulsar N16 Rear Ultima Struts/Shocks
Holden Astra TS Front Ultima Struts/Shocks
Subaru Forester SF F5 Rear Ultima Struts/Shocks
Toyota Starlet Rear Ultima Struts/Shocks
Hyundai Getz Front Ultima Struts/Shocks
Ford Territory Rear Ultima HD Shocks
Mazda 2 DE Rear Ultima Shock Absorbers
Daihatsu Charade G100 G101 G102 Rear Ultima Struts/Shocks
All these are included in our Ultima Shock Absorber range; you can find them in our store.
You'll get extended warranty, quality parts & great prices when you buy car shock absorbers online from Auto Parts Direct2u.
Grab a set of Ultima Shock Absorbers for great riding comfort & excellent braking and handling.
To find the replacement shock absorbers for your vehicle, click on our Shock Absorbers category, then, choose your make, model & year, and all the replacement Shock Absorbers will appear that we have for your vehicle.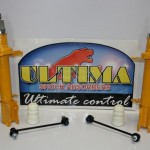 To ensure you select the right shock absorbers for your vehicle, click on the listing and thoroughly read the description and match with your vehicle.
In case, you are not sure or if you don't find the precise part in our listings, then, use the Contact Us form on the Home Page and provide your vehicle's make, model & year and what part you want, and we'll find the right part for you.