We have just expanded our Brake Parts category with Brake Disc Rotors and Brake Hoses. Premium Brake Disc Rotors available for all different makes and models at affordable prices now in store.
About our new Brake Disc Rotor products: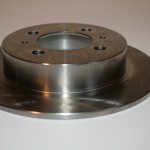 By integrating the foundries into the production process, developed technical and design know how, offering increasingly better rotors and advanced solutions. Precise tolerance offers maximum performance, increased comfort and extended longevity of the brake system components and axle. An electronic balancing system is used during the production process to eliminate an unbalanced weight distribution of the ventilated rotors, thus eliminating the risk of vibrations. PBR Brake Disc Rotors coming soon.
Brand new PBR Brake Hoses now in store, PBR Brake Hoses are manufactured to ensure maximum brake performance and life by combining high quality, low-expansion rubber hose with purpose built precision fittings.
Hoses are assembled to Original Equipment specifications and incorporate double-crimping of the hose ends to ensure consistent brake performance over time. To find replacement Brake Disc Rotors and PBR Brake Hoses for your vehicle click on our Brake Parts category, select your make, model and year, and all the replacement Brake Parts we have for your vehicle will appear. To make sure of the correct brake part for your vehicle click on the listing and have a read of the description and match with your vehicle.
If you are unsure or if we don't yet have the part you need listed, use the Quick Contact form on the Home Page and supply your vehicles make model and year and what part you are after and we will find the correct part for you. We have hundreds of Brake Parts available that are in the process of being added to our store, so ask us or keep checking what is available for you vehicle.