Some of the car repairs, in fact, do not need visiting an auto mechanic or workshop. You can search and buy auto parts online and finish the job yourself, which would cost you less. The interesting thing is you'll get awesome offers when you buy from online auto parts store because they incur lesser overhead costs than retail stores. We suggest that you go over below he lpful tips before you commence your searchfor finding auto parts online for your vehicle.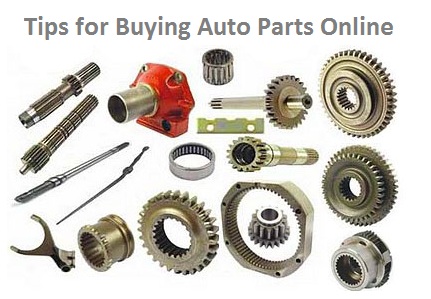 Essential Tips for Buying Car Parts Online
Know Your Vehicle:
You must know the make, model and the manufacture year of your vehicle. Bear in mind that every model may have different versions that may have standard parts, which may be common for all, but non-standard parts will differ. Non-standard auto parts are automotive parts that are fitted to one model and not in other. It's advisable to refer your car's user manual to get information about your car's systems and automotive parts.
Acquaint Yourself with Automotive Terminology:
It is better to learn some automotive terminology. When you know the name of the auto part and their role in vehicle's functioning, you can very well prevent making an expensive mistake and wasting precious time. You can start by writing down the auto parts names that you aren't familiar and try grasping them by referring it. The more automotive terms you get acquainted with, the better it is for you.
Buy Aftermarket Auto Parts & Save Substantially:
It's not required that you always buy auto parts from the original equipment manufacturer. Sometimes, you won't find the original auto part easily for the older vehicles. Today, there are numerous companies manufacturing aftermarket auto parts. They are exact replicas of the original auto parts and give the same level of vehicle performance. Nevertheless, the price should not be the deciding factor, you must also see if the product comes with proper warranty when buying auto parts online.
Availability of Automotive Parts:
If it's just a year or two that a car has been introduced to the market, you'll have to depend solely on original parts through the dealership, as they're not yet made obtainable on the aftermarket. Usually, you won't find aftermarket auto parts for new vehicles. It is only when the vehicle becomes older that its auto parts start appearing on the aftermarket precisely because of the demand and or original auto parts are no longer available.