When buying car parts we recommend buying from the same country you reside in. As vehicles that are manufactured for one country don't always have the same replacement parts as vehicles manufactured for another country. I have found in the past that only a very small amount of parts are the same.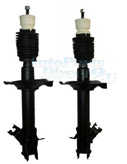 We have some replacement parts available for a couple of imported vehicles like Nissan Skyline's.
To know if your vehicle was manufactured for Australia, check your 2-3 compliance plates to be all silver in colour. Compliance plates can be found under the bonnet and on the inside of the door jam on the front driver's or passenger side. If you find one or two of your compliance plates are either green, blue or purple this means you have a direct import.

A direct import means a person has ordered the car from another country independently. Please be aware if you do decide to do this, it may be tricky to get the correct replacement parts in your country. So when parts are required you will need to find a contact in your country that specialises in direct imported parts or find a contact in the country the vehicle was manufactured for.

So when looking for replacement parts online for your vehicle make sure you are buying from a seller in the same country as your vehicle was manufactured for. Otherwise it is an expensive lesson to learn when paying high postage charges just to find out they won't fit your vehicle.
All our replacement parts at www.autopartsdirect2u.com.au are for vehicles manufactured for Australia and are dispatched from Sydney 5 days a week with e-Parcel post.