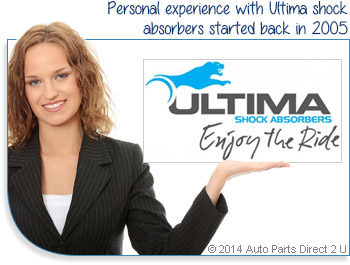 Why I personally love and believe in all the Ultima shock absoshock absorbersrbers we sell. My personal experience with Ultima shock absorbers started back in 2005 while working for a spare parts shop.
I was learning on the job, never worked in the industry prior. I found the parts industry to be challenging and always learning about new parts and their uses. This was very exciting to me being a woman and always loving sporty cars. Being a Spare Parts Interpreter and a business owner in the so called 'mans industry' has been challenging as you can image but also very rewarding. Looking back on my 7 years experience in the parts industry I am very proud of all my accomplishments.
Selling parts from filters, brake parts, bearings, clutches, shocks, front end suspension, belts, spark plugs, ignition parts and more including some accessories and tools; I ended up specialising in Shock Absorbers and even tho I didn't really want to sometimes … bearings. When a customer would walk into the shop and most staff that was serving them found that the customer was in need of shocks, well out they would call 'meet the shocking lady'. Haha it ended up always being me as I had almost memorised two different shock catalogs one being Ultima.

Although all the suppliers of the parts we stocked were wonderful to me, I became good friends with the staff who sold the Ultima shock absorbers. I remember calling them up one day and I got the owner who started Ultima shock absorbers. I found him very polite and great to actually speak with the person who owns the product. I was also able to email the engineer of Ultima Shock Absorbers that was so exciting! So when I needed to ask a bit more of a technical question I would email the engineer and I would have my answers straight from him. In my 7 years I do not even know the names or ever contacted any owner of any other brand let alone the engineer. I am still in contact with the owner and engineer today.
As in all products that are manufactured, sometimes things don't always go to the plans. Back in 2006-2007 there was an issue with two part numbers from the Ultima shock absorber range. I contacted Ultima and they had advised us that there is an issue with the current batch of these two part numbers and they are expecting a new batch with the issue solved. I have found with Ultima that if there is an issue with one of their parts, they are very diligent to get the shocks back to test and fix the fault so the next batch performs as they should.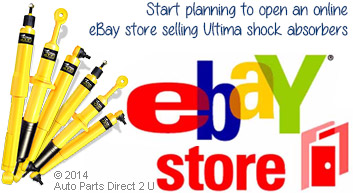 After a year or two I had spoken to and had a good relation with all people to do with Ultima. I had decided that since I had always had a good relation with Ultima and response from customer's that I would start planning to open an online eBay store selling Ultima shock absorbers. It took me quite awhile to put into action as I had never had my own business and the thought of quitting myI had spoken current job to do my own business was quite scary. I had spoken to the owner of Ultima Shock Absorbers and he was quite happy for me to sell his products online and he agreed to dispatch the products nearly all over Australia for me via couriers.
So I researched for months and worked out all I would need to do to setup the business and what costs. Then I took a trip to meet the owner and all the wonderful staff, I checked out their large warehouse and on the spot had my account setup by the owner, got all the information and photos I needed. Then off I went back home and created an ebay account and the legal business side of things. A name just hit me out of the blue; I had been stuck for ages Auto Parts Easy123, perfect! So I registered the name and gave notice to my current boss and thanked him for finally giving me a go and teaching me all he knew. So once I got home from my last day, I hit the button to load all my listing of Ultima shock absorbers to be active on eBay. Only took a couple of days and I had my first sale, perfect.
Well the time finally came that I need shocks for my EL Falcon, they were the original Monroe shocks and they had had it. Well every pot hole, speed bump and lump on the road was a nightmare. I couldn't handle it any more. I called up Ultima and one of the managers answered; I told him I need some front and rear struts and shocks for my Falcon as they have had it. Well no worries they were sent out that afternoon and I received them the next day. I called my local mobile mechanic and out they came and fitted my new full set of Ultima struts and shocks. Well the first drive after having them fitted, I couldn't believe the difference. Such a smooth ride, handling felt so different… I felt more in control of the Falcon. Breaking …well the response of the suspension was a bit of shock at first, it was so smooth and precise. I know am truly in love and believe in the brand Ultima shock absorbers.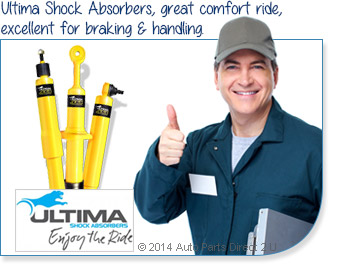 I was so pleased with the shocks that I made up:
Tired of feeling every bump and pot whole with a BANG!
Grab a set of Ultima Gas Shock Absorbers.
Great comfort ride, excellent for braking and handling.
I no longer own the EL Falcon, but I'm eagerly waiting for Ultima to manufacture some for my Hyundai I30. The original shocks are ok, but going over pot holes is starting to become uneasy. Ultima shock absorbers have created part numbers for the front and rear shocks for the I30's so it won't be long.
So basically we sell Ultima shock absorbers because we know they work and do their job magnificently. So if you need ultima shocks and would like a comfortable ride come and visit our web store www.autopartsdirect2u.com.au or send us an email at sales@autopartsdirect2u.com.au