Australian heat can suck away all the liquid from you. Estimates suggest that Australian summers have increased by 5-degree centigrade in a century, and the climate changes continue occurring each year.
The temperature increase is making it difficult to survive the summer. While living things do have it difficult during summers, there are few other non-living things that need our attention, like cars.
The world of cars
It is been observed that during summers cars trouble people a lot. Modern cars may be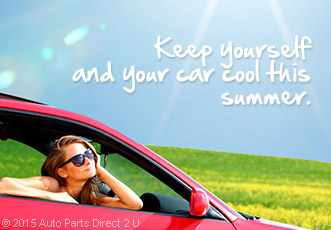 well equipped but despite that there are certain auto parts that lead to breakdowns. It is vital that you keep your cars prepared for the high temperatures during the summer. Let us have a look at the preparations that you can take to keep your car comfortable and healthy.
1) Hybrid cars: Hybrid cars are made up of different technology than others cars. This is the reason its owners need to worry less about the car during summers. They are made to cope up the idle situations thus putting less pressure on the engine.
2) Wheels: Car manufacturers ensure that modern cars have well equipped brakes but this doesn't happen with tyres. When cars cover long distances on hot roads there are chances of their quick wear and tear. In such case, you may need to change the tyre in order to have a safe drive. A good handy jack can be your better companion while you are on a road trip during summer.
3) Good Oil: Many of you might not be aware about the fact that oil acts as an important coolant for engines. This makes it important that while buying engine oil you buy good quality oil so that your engine can survive the soaring heat of Australia.
4) Perfect Engine Fan: Mostly, people ignore the importance of engine fan. It helps to cool the engine while it is on running. Hence, when you start your vehicle and get to hear the noise from bonnet, then check it once to ensure that the engine fan belt is not loose. Apart from this, you also need to ensure that you get your car serviced at regular intervals.
5) Overheating: In olden days, whenever the car was overheated, we used to uncap the radiator and put more water to it. However, in modern cars things have changed. If your car is overheated then all you need to do is open the bonnet and let it cool down by itself. Playing around with the cooling system may put in more trouble.
6) Keep Cool: During summers, you need to watch the temperature gauge. The unusual activity of the gauge will provide you the activities in the engine. If you are comfortable or getting down at the next town, lower the windows and put on your heater. During such conditions, heaters act as a radiator.
The above-mentioned points may be small but have great impact on the engine. Following these will ensure that you have a safe journey and don't end up with a broken car standing on the road. Keep yourself and your car cool this summer.
If you are looking for any kind of car spare parts, Autopartsdirect2u is the one stop source of auto parts online Australia wide.