Ultima shock absorbers has gone through an extended research and development phase in Australia. The stringent research and developed helped to develop shock absorbers that endures the toughest Australian conditions. Thus, modern day's Ultima shock absorbers are engineered to provide the best performance for the vehicles which is combined with reliability and durability.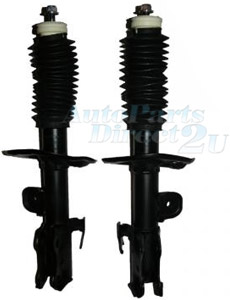 The research and development team made use of specially developed bump settings and rebound valve settings for Ultima Shock Absorbers, which enabled to provide improved ride and handling qualities.
The finest sealing qualities are acquired making use of a unique European sourced four level multi-lip seal to shield (protect) strange particle entry, and to hold back fluid and gas pressure under all weather conditions and against different types of environmental elements. This design is improved and better compared to the traditional two and three lip design.
To offer enhanced strength, the seamless shock absorber eyes (fusion welded to the body) are used. Larger diameter dual chrome plated piston rods are utilised to give better durability during side loads that are put on shock absorbers of the recent times. All through the range, highly resilient quality rubber bushes are utilised.
Get Brilliant Control of Your Vehicle
Do you desire to have an excellent control of your vehicle? Get Ultima Shock Absorbers for your vehicle today and cruise with total confidence. Never compromise on inferior or sub-standard shock absorber for your vehicle. Get the finest shock absorber for your vehicle to get the ultimate control to ensure your family's safety.
You are Covered with Ultima Shock Absorbers Warranty
On all vehicles, Ultima Shock Absorbers offer a three year or 100,000 kilometre warranty (whichever occurs earlier). Ultima shock absorbers' come with a long warranty to give you complete peace of mind.
At Auto Parts Direct2u, you will get Ultima Shock Absorbers for a huge range of vehicle makes and models. No matter what car make and model you own – from Toyota to Holden and Suzuki to Honda, Auto Parts Direct2u has car spare parts for your treasured possession.
If you have any questions, feel free to directly contact Auto Parts Direct2u. Through the website portal of Auto Parts Direct2u, you can also order online the spare part that you need for your vehicle.