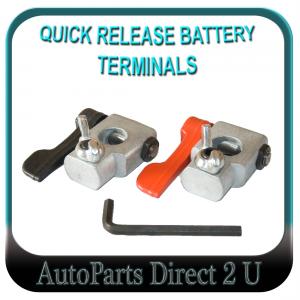 Saves Time: Remove batteries with a simple click
The OwBo Terminal comes with a secure grip and quick release that makes either removes or reinstalls the battery with two single clicks. No spanners are required so the operation can be done anytime, anywhere.
Simple to Use: Simplicity in design ensures people feel comfortable using the product
Effective design means that the OwBo Terminal is robust and simply to use so that people feel comfortable using a product. Individuals, farmers, marine enthusiasts, truck drivers, automotive mechanics and warehouse staff can all feel confident using the product immediately.
Convenient: Remove infrequently used batteries easily to prevent them going flat
Changing over batteries that are used intermittently is no longer time consuming and can be done quickly and easily without the need for spanners. This means that a battery can easily be stored to ensure it is ready next time it's required.
Safety: Quick removal without the need for spanners provides maximum safety for personnel and reduces damage to vehicles and machinery
No spanners are needed to remove the battery so the risk of arching and electric shock through a spanner slipping are removed. No need for spanners also means that there is no danger of slippage and damage to personnel or equipment and batteries can be disconnected quickly and safely in the case of an emergency.
Safety Road Rescue: Quick removal provides maximum safety for emergency personnel and reduces damage to vehicles
When road rescue workers arrive at an accident scene one of the first tasks is to disconnect the battery to lessen the risk of fire.
This is usually done by cutting the battery cable because using a spanner that may cause sparking. While this achieves the immediate goal it makes it difficult if the vehicle needs to then be mobilised again.
The OwBo Terminal enables the battery to be disconnected quickly and safely without a spanner or damage to the vehicle wiring harness. It can then be reconnected when required.
Quality: Rigorous testing ensures a reliable and durable product that won't vibrate loose, break or oxidise